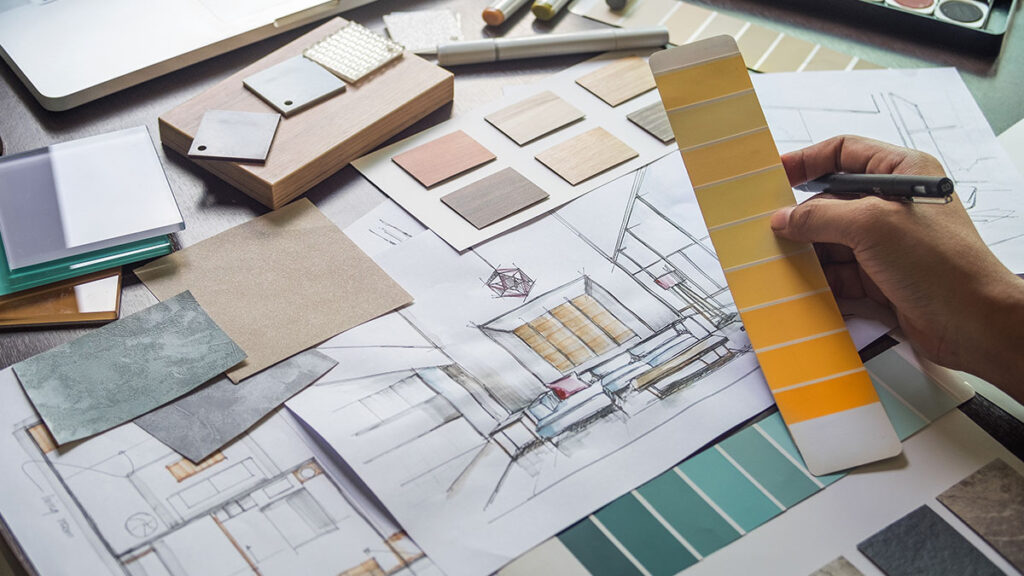 For the DōMA Difference benefits of course! Our designers collect your inspiration idea, make suggestions, and truly collaborate on creating your perfect retreat.
Here are three of the top benefits when you design with DōMA.
Quality Products & Experienced Interior Design Team
You know DōMA for excellent quality contemporary and modern furniture, but did you know we can also help create a traditional or eclectic style as well? Our team of Design Specialists can create any look you are trying to achieve from Beach with an Edge, Modern Farmhouse, to Office Chic. All our product lines are sourced from the finest manufactures in Italy, Canada, Germany and right her in the USA.
See It Before You Buy It
If you need one console to finish your room, our team of designers can produce an elevation of your space so you can see it before you buy it. No design challenge is too large or too small. All we need is a photo of your space and some dimensions. This can be done by email, text or we can come to your home. We will also create mood boards for easy communication of the designer's vision. Share your inspiration thru Pinterest boards and our let our design team create the perfect relaxing retreat for you and your family.
Fast Turn Around Time
Once our team has your measurements and pictures, we can produce full floor plans to include 2-D Color Boards, 3-D visualization, elevations with the exact products of an area and scaled layouts for your space. All with a quick turnaround time, usually within one week.
Our Toolset includes:
A Design Survey to gather information on your preferences and inspirations.
Hand selected manufacturers with the highest reputations and long-standing history of quality products
A nearly limitless selection of options including fabrics, leather, stitching choices, configurations, and more.
White glove delivery service from our own installers.
How the Design Collaboration Works
Request a project by submitting our online design questionnaire. If you have a specific design consultant you would like to work with, simply add their name in the comments.
Your Designer will contact you and together we will determine the best collaboration method. Email, text, in person meeting at any of our 3 showroom locations, or we can schedule a home visit.
Your Designer will then draft a color board for your project and share 2-D layouts, scaled drawings, 3-D visualizations, and mockups for the space.
Shop the design look with direct links to the products featured in the layouts. Leave comments on each feature or product right on the mock up.
Choose your products with a special appointment in our showroom or simply accept or reject the products in the virtual layout sent to you. If you need color swatches our designers can send those to you as well.
Once products have been selected our designer will create a full presentation of your project after a 60% deposit has been made.
Your product orders are placed.
Delivery is scheduled.
An after-order assessment is completed.
You and your family enjoy the space.
As a locally owned and operated company, DōMA Home Furnishings cares about our community. Our staff knows the St Pete and Tampa Bay style, and many of your neighbors are our clients. Not only do we assist you in designing your perfect home, but we can also help contractors create floor plans, help you with wall paper selection, complete a full kitchen redesign, lighting and all the things that make you feel AT HOME – DōMA.
Start Your Interior Design Project Today